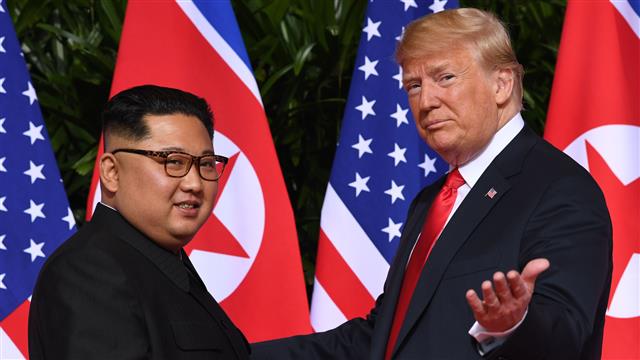 The Kim Summit: Is Trump Caving?
by D.J. McGuire
From The Art of the Dealapparently to the Art of the Cave (CNN):
As President Donald Trump prepares to meet face-to-face with North Korean leader Kim Jung Un for a second time, his administration is weighing backing off an earlier demand that North Korea agree during the upcoming summit to make a full accounting of its nuclear and missile programs as a prerequisite for US concessions, multiple administration officials tell CNN.
Keep in mind, without a full accounting, we will have no idea if the Kim regime will have stopped its nuclear weapons production, let alone whether it will have truly denuclearized — as every Administration has demanded since Reagan.
Then again, it's quite possible the regime could get what it wants (an end to economic sanctions) without even pretendingpromising to denuclearize (same link):
On NBC News this week, Secretary of State Mike Pompeo said that some US sanctions would be removed when "We're confident we've substantially reduced that risk" from North Korea's nuclear weapons program. In June of last year, at the time of the first Trump-Kim summit, Secretary Pompeo tied sanctions relief to full denuclearization.

"We are going to get complete denuclearization; only then will there be relief from the sanctions," Pompeo said in June.
Last summit, of course, Trump "shocked top advisers by agreeing to cancel joint U.S.-South Korea war exercises, which was seen as a major concession to Pyongyang." This time, they clearly won't be very surprised, as Pompeo et al are already preparing the ground for a cave … in particular Stephen Biegun, who already hinted that some sanctions could be dropped soon (Washington Post).
Add to that all of the whispers of Trump looking to pull American troops out of South Korea (although, to be fair they are only whispers), and it looks like Trump will be the most dovish American president in history regarding North Korea.
Given the regime's close ties to Beijing and Moscow, appeasing it at the expense of our allies in South Korea and Japan would be a terrible mistake.
D.J. McGuire – a self-described progressive conservative – has been part of the More Perfect Union Podcast since 2015. He is also a contributor to Bearing Drift.
Discover and navigate topics related to this
podcast

article

by using the tags below

Not finding what your looking for? Try a search