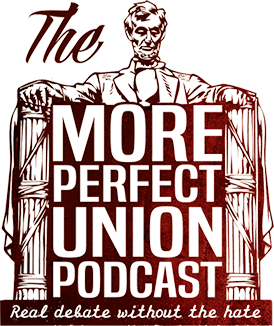 Trumpcare R.I.P. (Ep. 88)
Trumpcare R.I.P. (Ep. 88)
In this "More Perfect Union" podcast episode the gang takes an in-depth look at the future of healthcare reform after the Trumpcare-Ryancare vote debacle and then has some laughs about the Devin Nunes-Adam Schiff war of words over the House Intelligence Committee's investigation into Russian influence in the presidential election.
Like what you heard? Subscribe on iTunes and don't miss a podcast! 
And if you like talking politics, join us in our Facebook political debate group, OPEN FIRE, where you can discuss news and politics with D.J., Kevin, Rebekah, Greg, Cliff, Molly, Helena, and lots of other smart, fun people.
Discover and navigate topics related to this
podcast

article

by using the tags below

Not finding what your looking for? Try a search