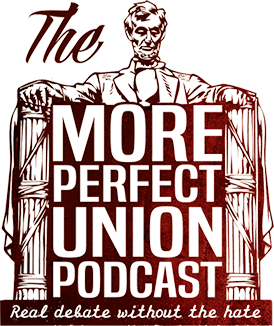 More Perfect, After Dark: War and Peace (Ep. 87)
More Perfect, After Dark: War and Peace (Ep. 87)
This special "After-Dark" episode takes listeners behind the scenes to hear what the hosts talk about after the podcast ends. This week they discuss the North Korean nuclear threat and how it compares to past situations in Iraq and Syria, how Secretary of State Rex Tillerson is handling his new role on the world stage, and whether President Trump is up to the task of international diplomacy.
Like what you heard? Subscribe on iTunes and don't miss a podcast! 
And if you like talking politics, join us in our Facebook political debate group, OPEN FIRE, where you can discuss news and politics with D.J., Greg, Rebekah, Kevin, Cliff, Molly, Helena, and lots of other smart, fun people.
Discover and navigate topics related to this
podcast

article

by using the tags below

Not finding what your looking for? Try a search