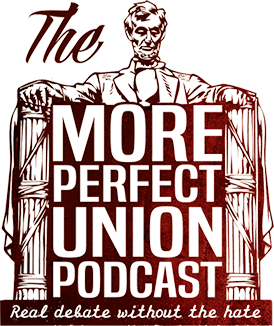 Trump vs. the NFL (Ep. 119)
Trump vs. the NFL (Ep. 119)
Episode 119 of "The More Perfect Union" podcast has some of the gang taking a knee to protest President Trump's attack on the NFL, and then laughing through the pain at his week of bad news from Kim "Rocket Man" Jong-un, John "Maverick Man" McCain, Jared "Email Man" Kushner, and Don "Secret Agent Man" Trump, Jr.
GO TO HELLOFRESH.COM AND USE PROMO CODE: morperfect30 TO GET $30 OFF YOUR FIRST ORDER!
Like what you heard? Subscribe on iTunes and don't miss a podcast. 
And if you like talking politics, join us in our Facebook political debate group, OPEN FIRE, where you can discuss news and politics with Kevin, D.J., Greg, Rebekah, Molly, Cliff, and lots of other smart, fun people.
Discover and navigate topics related to this
podcast

article

by using the tags below

Not finding what your looking for? Try a search