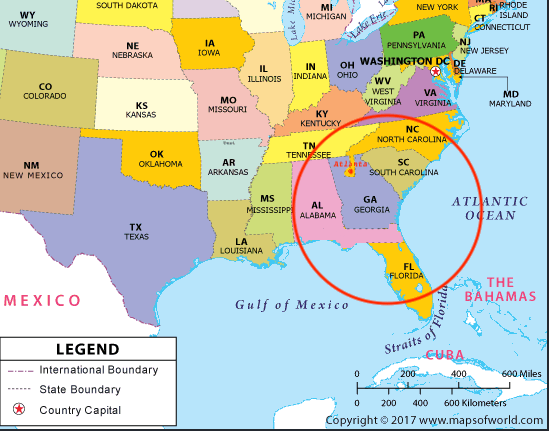 Hey Dems, Let's Just Gerrymander States!
After some baffling election results 2016 and 2018 elections, I'd like to propose what should be the Democrats' new version of gerrymandering: moving state borders to group like-minded, homogeneous groups of voters together.
I'd start by giving the annoying Florida Panhandle to Alabama and adding Atlanta to North Carolina, thereby fixing two problems once and for all. (See graphic.) It would make all four states more homogeneous and avoid the bifurcated cultures – and consistently infuriating election outcomes – that drive the citizens of those states (and the rest of the country) crazy.

I humbly call my plan "kevinmandering." 
Please feel free to suggest your ideas for new, improved state borders and let's make kevinmandering the next big political craze!
Kevin Kelton is a former Saturday Night Live writer and cohost of The More Perfect Union podcast.
Discover and navigate topics related to this
podcast

article

by using the tags below

Not finding what your looking for? Try a search