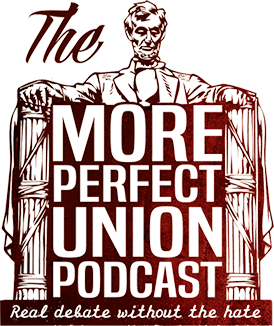 Pop Goes The Political Culture Week of June 4
Pop Goes The Political Culture Week of June 4
It's been a busy week in politics with Donald Trump destroying our relationships with our allies and trying to replace them  with with relationships with regimes that aren't welcome in polite society. He's also been busy not preparing for the summit with Kim Jong Un. Melania reappeared to a select audience of Gold Star families but no press was present so we know very little about the event. And Samantha Bee apologized to everyone except men.
I'm sure we at the More Perfect Union will have a robust argument about whether Sam Bee needs to worry about the feelings of men. Until then, here's all the news that's not fit to 'cast!
Fox & Friends With Benefits: Here in my state of Maryland, gubernatorial candidate Rich Madaleno may be having more fun than anyone else in his campaign ads. This week, the State Senator and progressive leader released an ad that talks about all the ways in which he has countered the Trump agenda in Maryland. He cites his work on funding for Planned Parenthood, school funding, and gun control.  The end is a shot of Madaleno with his family, where he says "The biggest way I'm pissing off Trump?" He then leans over and kisses his husband Mark Hodge on the mouth. And did I mention their kids are African-American but Madaleno and Hodge are not? Yeah.
To say the ad is pandering to a liberal base would be an understatement but that's not why it's so much fun. No, Madaleno isn't running it as a web ad on the MoveOn site and ginning up left-wing support. He's bought space during Fox & Friends so he can troll Trump directly.
Well played, sir. Well played.
Depression Lies: The fashion world is mourning designer Kate Spade, who died as the result of an apparently suicide this week. her husband Andy released a statement explaining that she has long struggled with severe depression. In a second shocking suicide, we learned of the death of Anthony Bourdain, the iconic chef and television host who took his life just a few days after Spade.
Depression in a common condition and many people will face it in their lifetime. Therapy and medications can be very effective in treating depression. If you or someone you know is suffering form depression, please reach out for help. The number for the National Suicide Prevention Hotline is 1-800-273-8255 and you can get help from them at any time. Or talk to your doctor – even if your doctor is just a clinician at an urgent care facility or someplace like Planned Parenthood. Any medical professional you see will help refer you for treatment that you can access and afford. You aren't alone and you matter too much not to ask for help.
Gmorning.
YOU ARE SO LOVED AND WE LIKE HAVING YOU AROUND.
*ties one end of this sentence to your heart, the other end to everyone who loves you, even the ones you haven't heard from for awhile*
*checks knots*
THERE. STAY PUT, YOU.

— Lin-Manuel Miranda (@Lin_Manuel) June 8, 2018
Go Team Go: The Caps are freakin' awesome and this has nothing to do with politics at all. I'm sticking it in here because I'm in the DC area and we are #ALLCAPS about our Stanely Cup champs and if Kevin, Greg and D.J. don't like it, they can take it up with Alex Ovechkin.
The #StanleyCup belongs to D.C. #ALLCAPS https://t.co/AQ2drtv0JQ pic.twitter.com/cOl11GxfIk

— NBCWashington (@nbcwashington) June 8, 2018
Pardon Me?: Donald Trump quipped to reporters that he may pardon Muhammed Ali. The Greatest was convicted of draft dodging in 1967. In the years since the Viet Nam war we've come to understand the Ali's position was a moral one, so pardoning him would be an honorable thing to do, right?
Yeah, the Supreme Court agreed in 1971 when they overturned his conviction. See, the DoJ at the time hadn't mentioned that his refusal to serve was a contentious objection based on his Muslim faith. The American government was bad at Islam even back then.
To add to the justice for the boxer, President Jimmy Carter pardoned all draft dodgers in 1977.
So, this potential pardon of Trump's is redundant. But what can you expect from a guy who thought Canada burned down the White House in the war of 1812?
No Girls Allowed: While Trump might be all about pardoning great male athletes, whether they need pardons or not, he's forgotten about some amazing female athletes this spring. The White House has not issued an invitation to the WNBA champs the Minnesota Lynx. The players have been invited to the White House after previous championships but this administration is apparently not fans of women's basketball.
But no worries. The team will show their championship colors in another way: by spending a day doing community service. In advance of a game against the Washington Mystics, they connected with a DC area charity called Samaritan's Feet to distribute shoes to kids in a need.
The White House hasn't commented about the Lynx's actions or why they haven't gotten a call but the Golden State Warriors coach Steve Kerr had some choice words about the situation.
No White House invite for the WNBA champion Minnesota Lynx?

Steve Kerr sounds off: "The president is turning all this into a political game." pic.twitter.com/XsznNByj0i

— 95.7 The Game (@957thegame) June 6, 2018
Patriotism as good deeds. I like it. I like it a lot.
So, stay well out there, listeners, and have a nice weekend.
Discover and navigate topics related to this
podcast

article

by using the tags below

Not finding what your looking for? Try a search